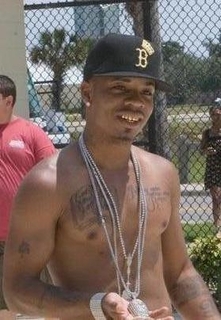 Plies promoter of his own criminal exploits, self proclaimed goon and gangster is a fraud. Reporters have obtained documentation from the state of Florida that lists the "definition of real" rapper's first real run-in with the law to have not taken place until two years ago, on April 12, 2006, when Plies – real name Algernod Lanier Washington, born May 22, 1976 – would have been on the eve of his 30th birthday and just beginning his ascension to his current status of gold-certified rap star.The email printout of the documentation, which appears at the end of this report, was obtained from the Florida Department Of Law Enforcement (FDLE) by paying the $24 fee and searching here [https://www2.fdle.state.fl.us/cchinet/] in the FDLE's criminal history database for Algernod Washington.
The FDLE's criminal record for Plies shows that the self-described "goon affiliated, ex drug dealer" who's "resume solid, street cred bigger" has been arrested just twice within his home state of Florida during his adult life, with both arrests taking place two years ago.
The 32-year-old was arrested for the first time at the age of 29 on April 12, 2006 for the misdemeanor charge of resisting an officer without violence.
The latter of his two adult arrests came during a well-publicized shooting at a Gainesville, Florida nightclub after a Plies performance on July 2, 2006. According to reports, members of the rapper's entourage, including his older brother, Ronell "Big Gates" Lavatte, pulled out guns and fired in the club after Plies, who's performance was running long, became angry when his microphone was cut off so that Lil Boosie could begin to perform.
Unlike his brother and Mr. Carnegie, Plies was charged with just a misdemeanor count for possession of a concealed weapon after police found loaded firearms in the vehicle he and his entourage were riding in. He posted a $50,000 bond shortly thereafter and was released. Plies served no known jail time after later pleading no contest to the charge.
He has however subsequently been sued by five Gainesville residents who claim they were the victims of the shooting at the concert and are seeking $10 million in damages [click to read]. Plies' attorney has publicly stated in response to the lawsuit that if they're suing the rapper, they're "suing the wrong person." Hip Hop spy thinks there are alot of fakes coming out of Florida and Plies is another one.



Posts

: 69


Join date

: 2010-09-15


Age

: 49


Location

: Tha Gutta




---
Permissions in this forum:
You
cannot
reply to topics in this forum